Our Partner Aquaporin
About Aquaporin
Headquartered in Denmark, Aquaporin is a global water solution company dedicated to natural water treatment. As the only company in the world, we embed aquaporins – nature's own water filters – into water purification membranes. The aquaporins are the core in our technology, Aquaporin Inside®, which is based on Nobel Prize-winning research and used to clean water in industries, in our homes and even by NASA in space.
At Aquaporin, we work with partners around the globe to develop sustainable methods of dealing with textile wastewater streams – giving them a tangible way to improve their sustainability performance and meet today's conscious consumers, while driving down costs.
Increasing water sustainability while reducing costs in the textile industry
Our Aquaporin Inside® Forward Osmosis membranes enable efficient extraction of water, while excluding challenging contaminants and reducing effluent volume. In the textile industry, our solution can reduce wastewater volume up to 50 times and increase water recovery by up to 98 %.
The process uses natural energy in the form of osmotic pressure to transport water through a filtration membrane, which improves efficiency without increasing energy use.
Søren Robenhagen
Søren Robenhagen joined the Aquaporin team in October 2019 as Sales Director for the Industrial Water segment. Before he joined Aquaporin Søren worked 8 years as Head of Trade for the Danish Trade Council in Turkey, Bangladesh and Ghana under the Ministry of Foreign Affairs promoting export of Danish technology, goods, and services. His experience also includes international sales within Shipping, Telecom and Security & Defence in the capacity as Business Development Executive, Key Account Manager and Sales Director. Søren holds a Graduate Diploma in Business Administration from Copenhagen Business School.
Contact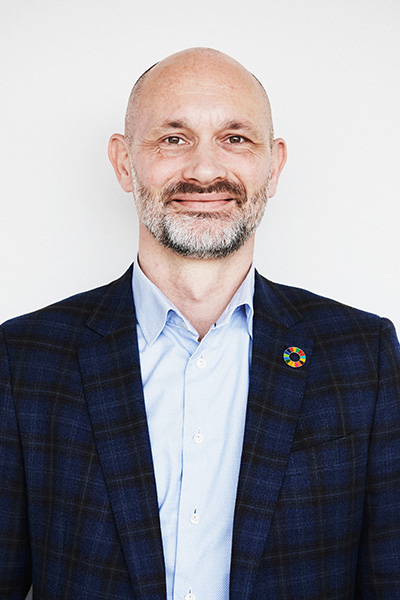 Søren Robenhagen
Sales Director, Industrial Water
Aquaporin A/S
Nymøllevej 78
2800 Kongens Lyngby
Denmark
Email:
sro@aquaporin.com

Direct:
+45 53738783

Main:
+45 82 30 30 82
Website:
https://aquaporin.com/

Social Links:
LinkedIn: www.linkedin.com/company/aquaporin-a-s
Twitter: twitter.com/AquaporinGroup
YouTube: www.youtube.com/c/Aquaporin
Facebook: www.facebook.com/aquaporingroup
Instagram: www.instagram.com/aquaporin_inside