Our Partner Cyan Technology Capital / Norton Rose Fulbrigh
Damian Georgino is Co-Founder and Managing Partner of Cyan Technology Capital (through Sewickley Capital Partners whose primary investments are in water, energy and infrastructure). Cyan invests in growth stage capital (typically A, B, and C post-revenue, post-technology development and true growth capital). Cyan typically invests US$1.0-5.0 million per investment but can lead or upsize larger investments as appropriate with co-investments from LPs and other like-minded institutional investors. Cyan Technology Capital Fund I, L.P. is our first fund. The fund is focused on the intersection between Blue (Water) and Green (Sustainable Technologies with Resilient and ESG characteristics). Our primary sectors are water, energy, mobility and infrastructure, specifically focusing on the digital, AI and IIoT space as we believe the time is ripe to enable water and other systems' smartness through technology and new business models. Cyan aims to bring more to the table than "just capital" – Cyan has a unique understanding of the space from various perspectives and backgrounds (as investors, owners, executives and advisors) and can identify superior investment opportunities and potential risk mitigation needs more accurately and provide more value to management teams and boards through our experiences.

Damian is also a Senior Counsel with Norton Rose Fulbright, a global Top 20 Law Firm with approximately 4,000 attorneys in more than 50 offices throughout the world. Damian leads the global water practice. Damian advises U.S. and international corporations, including Fortune 50 companies, financial institutions, private equity funds, sovereign wealth funds, and other investors in complex transactions involving water and wastewater, environmental, technology, industrial/manufacturing, energy, infrastructure and natural resource projects. In his more than 25 years of experience, Damian has advised clients on transactional— including investments, financings and structures, risk management and compliance—and operational matters across a variety of industries. He has extensive experience in buy-and-build and hyper-growth strategies, structures and operations primarily focused on the water, wastewater, energy, technology and environmental industries. Damian has also successfully led numerous water and wastewater privatization and P3/PPP projects in the U.S. and throughout the world.

Damian has also been a founding executive of 3 publicly traded water focused companies, including a SPAC in it's de-SPACing transaction, and has been a venture partner in 4 private equity funds. Damian is also a frequent speaker on water and infrastructure trends including investment strategies.
Contact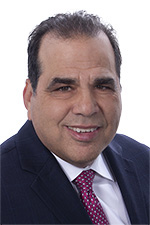 Cyan Technology Capital
Damian Georgino
Co-Founder and Managing Partner
Phone:
+1-858-245-3408
Email:
damian@cyantechcapital.com
Norton Rose Fulbrigh
Damian Georgino
Senior Counsel, New York
Email:
damian.georgino@nortonrosefulbright.com
Phone:
+1 212 318 3125
Website:
https://www.nortonrosefulbright.com/en-us